Three possible options for the venue of the 57th Eurovision Song Contest are being considered, as reported from the press conference of Azerbaijani minister of Sports and Youth, Azad Rahimov.
As told by the minister, one of the options is connected with the Sport Concert Complex named after Heydar Aliyev, which has been reconstructed recently. It has 7,800 seats and 1,000 more can also be added.
Another option is to hold the contest at the Tofig Bahramov Republican Stadium. "It will be possible by closing the stadium's roof and conducting reconstruction work so it will be possible to hold the contest at this stadium", Mr Rahimov added.
And finally the most debated project is the construction of a new concert complex to hold the contest in one of the most interesting places of Baku, on the boulevard of the National Flag Square.
Ok... The Sport Concert Complex has 7,800 seats. If we add 1,000 more we'll have 8,800. Ehm do you really think these seats are enough? And how are they gonna keep all 7,800 of them when they're gonna have to build the stage and the green room. Too many seats will be lost because of that. Or did I miss something?
Tofig Bahramov Republican Stadium
has 32,000 seats so is a good choice. They'll have to construct a new roof within a year though but it sounds easier than building a new concert complex. However the location of the new complex is just perfect. Right next to the sea and given the fact that Eurovision will start at 00.00 local time, it will be a perfect place to party until morning. With the sun rising and all that. Shit I don't wanna miss that. Here are two photos of the National Flag Square, day and night: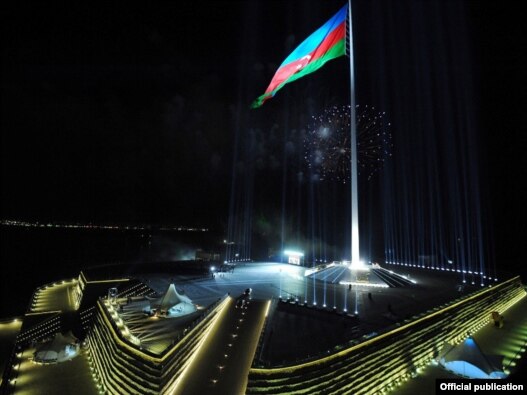 How great is this? And I've seen so many photos of Baku and I never had in mind such a thing. Baku is magnificent! I really wanna go!